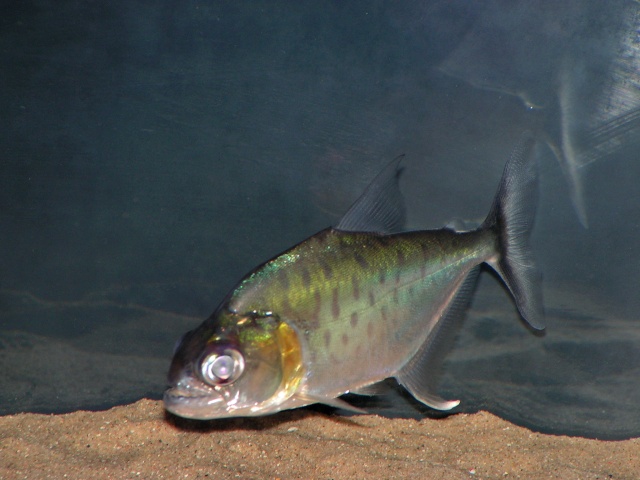 Scientific name:
Serrasalmus Manueli
Author:
Fernández-Yépez & Ramírez, 1967
Synonyms:
Pygocentrus Manueli.
Common name:
Green Tiger Piranha (juveniles only), Manueli Piranha, Manny.
Distribution:
Llanos, Brasil and Venezuela.
Also found in Rio Orinoco, Rio Negro and Rio Amazonas.
Appearance:
Morphology (Body Characteristics)
Pygocentrus-type body, with a very large prominent humeral spot. Some forms in lower Amazon grow very large. Often found with S. Rhombeus.
Color of Life
The juvenile examples of this species uniformly present a body of bright silver (greenish) color, with a large, prominent caudal blotch and various spots or bars, which are dark and cross-sectioning the body. The fins are monochrome and transparent. In the adult, the body generally is bright silver towards the regions dorsolateral and back of the body. The pectoral and pelvic regions is orange to bright red. A huge extended blotch part transverse nearly three fourths with the lateral and yellow region to orange towards the ventrolateral and mandible region. The iris is red. The dorsal and anal fins are grayish. The anal with a black margin in the distal region of the first radii. The caudal and adipose are very dark in in large adults, clearer in young adults. A prominent 'V" forms the caudal basal spot. The pectoral and pelvic fins may be red or reddish-orange coloration.
Reference to identify this fish
· Orange eyes
· Prominent humeral spot
· V-type caudal fin
· Tiger-like pattern and green hue on flanks (juveniles only)
· Concave head shape (juveniles)
· Convex head shape (adults)
Maximum Size
At least 50 cm. (20") TL, possibly even larger.
Specimen over 20 cm. (8") TL are extremely rare in captivity.
Sexing
Not sexually dimorphic: males and females look similar.
Care:
Minimum tank size
Being a fast, agile and active swimmer, the Manuel's Piranha requires a very spacious tank: the recommended tank size for a adult specimen is.(60x20x20").
Juvenile specimen can be kept in a smaller tank: minimum (40x16x16").
Aquarium Requirements
Plants, drift wood or rocks provide hiding places, the tank lights should be dimmed. Also plenty of open space for swimming.
Heavy filtration required to deal with the large amounts of waste this fish produces. A power head should be added to provide extra currents.
Water temperature
Between 24-29 degrees Celsius (76-84 degrees Fahrenheit).
Water chemistry
pH should be between 6.0 / 8.0, ideal is slightly acidic to neutral water: pH 6.5 / 7.2
Soft water is preferred.
Compatible Species
None: very aggressive towards other fish, this species should be kept alone in the home aquarium.
Breeding
No breeding in captivity has been recorded
Diet
Fish, shrimp, cockles, mussels, squid, insects, earth worms, pellets.
Food items such as poultry, mammal meat and organ meat should be fed sparsely: once or twice a month at most. Meat needs to be unseasoned and trimmed of any fat.
On rare occasions this species accepts vegetables, nuts seeds or fruit as well.[/size][/size]