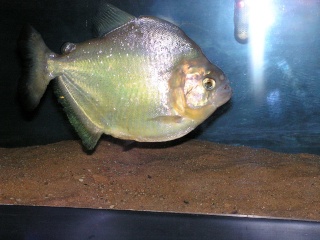 Scientific name:
Serrasalmus maculatus
Author:
Kner, 1858
Synonyms:
Pygocentrus melanurus, Serrasalmus aesopus.
Common namen:
Gold Piranha, Mac, Catirina (Brasilian).
Distribution:
Amazon and Paraguay-Paraná River basins (Brasil, Paraguay, Argentina).
Maximum Size
Approx. 20 cm. (8") TL.
Sexing
Not sexually dimorphic: males and females look similar.
Care:
Minimum tank size
The Maculatus Piranha is one of the few Serrasalmus species that have successfully been kept in a group for a while: minimum recommended size to attempt this is 150x50x60 cm. (60x20x24") - only to be attempted by very experienced piranha keepers that know exactly what they are doing, and know what risks are involved!
Tank Requirements
Plants, drift wood or rocks provide hiding places, the tank lights should be dimmed.
Heavy filtration required to deal with the large amounts of waste this fish produces. A power head can be added to provide currents.
Water temperature
24-29 degrees Celsius (76-84 degrees Fahrenheit).
Water chemistry
pH should be between 6.0 / 8.0, ideal is slightly acidic to neutral water: pH 6.5 / 7.2
Soft water is preferred.
Compatible Species
Although this species has successfully been kept in a group, it is highly recommended to keep the Maculatus Piranha as a solitary fish: it remains a parasitic and highly aggressive species.
Breeding
Few instances of captive breeding.
Diet
Fish (whole, fillet or feeders *), shrimp, cockles, mussels, squid, insects, earth worms, pellets.
On rare occasions this species accepts vegetables, nuts seeds or fruit as well.