Trying to cure a disease that has contracted the fish is often a painful moment to pass. The majority of diseases affecting our friends in scales are very difficult to diagnose and eradicate. Therefore it is better by far to prevent disease than to combat it. To do this, some basic rules are easy to follow and apply. It is certain that these rules will not eliminate all risks of illness, but they decrease considerably.
First:
The hygiene of the container, it is better several small water changes more frequent than large water change occasionally. Although piranhas are very hardy fish, it is better to let the water stand for 24 hours to let dechlorinate. But as this forum, most members have large bins, it is not always possible, then it is important that before each water change to check the water parameters will be used. These parameters are not always consistent.
It is also important to keep the cycle of bacteria in the tank for this, do not change too much water. It is also very important not to clean all the media at the same time. Every time you clean the filter, we should clean up only a third filter media and to rotate each cleaning.
It also requires that the filtration is adequate for the species of fish retained. Each fish has special needs.
Second:
Food. Piranhas are very long and crooked, considered carnivorous fish, which is far from true. Piranhas are scavengers and fish-eating occasion. To be clear, they feed on dead fish and sick fish or less difficult to catch when they have the opportunity. Nutrition plays a lot about the health of our fish. A poor diet will result in deficiencies and a weakened immune system of fish, so a greater risk of disease.
Red meat is not suitable for the piranhas, they do not digest. They can eat red meat, but it will cause pollution, since the meat is almost in the same condition at the exit of the fish which was at its entrance ... ..
It is obviously very important to clean all the leftovers after a meal, and at least once a week, check under the roots, rocks and corners a bit less accessible in order to ensure that nothing s 'is hidden
Overfeeding also creates a lot of pollution and seriously affects the proper development of piranhas. The amount of food to give is directly related to the size and age of fish to feed.
Provide live fish for piranhas is an additional risk of disease. If the heart is contaminated by a bacterium, virus or parasite, it can easily transmit it to our piranhas. Often, this contamination is in the intestine and therefore will not be visible before symptoms become apparent to the outside, which too often occurs in end-stage disease. A disease that is not visible from the outside is always difficult to diagnose, and intestinal disorders can cause other problems such as, bladder disorders, of dropsy etc. ... .... ... ...
To avoid contamination of food you can simply freeze these foods, eliminating a large majority of bacteria, viruses and parasites.
Third,
Stress causes many health problems for fish like any other living creature. To avoid stress, it is of very great importance of properly maintaining our fish.
When an animal is stressed, the body are brain sends the same signal when it is attacked. The body sends more doses of anti-inflammatory drugs that numb the immune system. Several hormones are also sent through the system to keep the fish in a constant alertness, which takes a lot of energy, so less energy to fight any diseases and bacteria they fight constantly in their tank that normally do touch it. Frequently occurring diseases suddenly for no apparent reason, without any introduction in the tray, occur when the fish lives stress. Fish are often carries many diseases without being affected, but when the stress this puts the game, these problems come to take over and fish health is deteriorating very rapidly.
Here are some sources of stress that can be eliminated by choosing a suitable location to place our aquariums:
- The noise, avoid placing the aquarium has a face and turned the TV speakers home theater
so they do not send sound waves directly into the tray.
- The light, avoid placing the aquarium near a window, and follow the lighting periods.
Use a timer for the lighting of our aquarium is recommended.
- The movements, place the aquarium in a place where one does not flow too, ie, in the form
room rather than near a door so an entry.
- Vibration, place the aquarium on a stable surface, the strength of the floor is obviously very
important but not only support but also to avoid vibration, avoid placing
the aquarium is located on the side where the street if véicules heavy driving by. away from household appliances
washer as my example.
Introduce new fish may also give rise to diseases difficult to treat. Most pet stores sell sick fish, it is very rare to find well maintained unless you go to specialty stores in the aquarium. Before introducing a new tenant in an aquarium already populated, we should always put the new kid in quarantine for, as the word suggests, about 40 days, which usually allows time for most diseases to occur. So the aquarist experience must have a quarantine tank that also serves ferry hospital.
Wounds and bites can cause infection very quickly. To avoid serious injury and severe bites requires that the fish has enough space, we will decline and the turf wars. The aggressiveness of our fish also decreases when they have a good hiding place, so it is crucial that they have plants, rocks or roots in sufficient quantities so that each fish has its own cache. Overpopulation will lead to cannibalism, we must have the appropriate number of piranhas for space in the aquarium. The decor does not contain sharp parts and / or sharp. Having no legs, fish scratch themselves on anything they can find. A bite or a deep wound will require isolation of the fish hit, but I'll talk more in the cards diseases.
Health and safety. When handling our fish or during maintenance, it is a very very very very important to always wash their hands or any surface that has been in direct contact with the aquarium water or with a fish.
Tropical fish can be carriers of zoonotic diseases. A zoonosis is a disease transmissible between species. Our fish so we can transmit diseases that can be severe, including salmonella. It is therefore necessary to always make sure to clean all tools and all surfaces that come in contact with our tanks.
It should also be wary of our fish, they have very sharp teeth and are a significant risk of injury. Be worth more than 2 when we want to manipulate plants and other decorative elements in hand, so a person can monitor movement in the tank and warn when the piranhas seem too interested in working in the hand tray.
It is sold with long rubber gloves for the maintenance of aquariums, I highly recommend using them because they give off an unpleasant odor to the fish that made their move quickly to come and enjoy the environment.
Also be sure not to scare the fish too, because a frightened animal is often an animal attack. The attack is generally the choice of predators when escape is impossible and as we are piranhas in the aquarium, the leak is not always possible.
[Color = red] REGENERATION OF TISSUE IN PIRANHAS [/ color]
Clashes for dominance of the group or at the punters, injuries are frequent
These wounds heal quickly.
The piranha has an amazing capacity for regeneration of missing parts even for very deep wounds that condemn certain death to thousands of other fish.
for example
A victim of a big piranha bite wound ..
The animal, very bad shape was isolated from other dogs for him to avoid certain death ..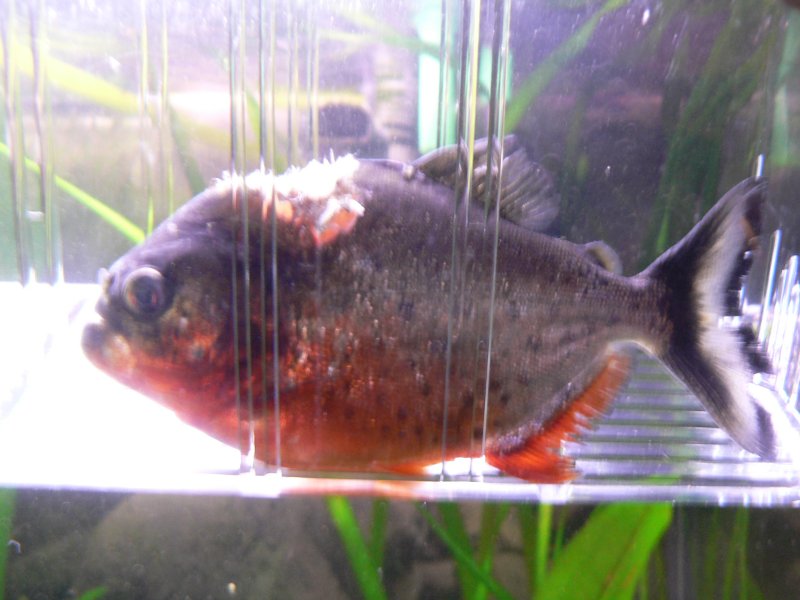 The piranhas were put in hospital tank to try to heal ..
Location of the wound after 2 days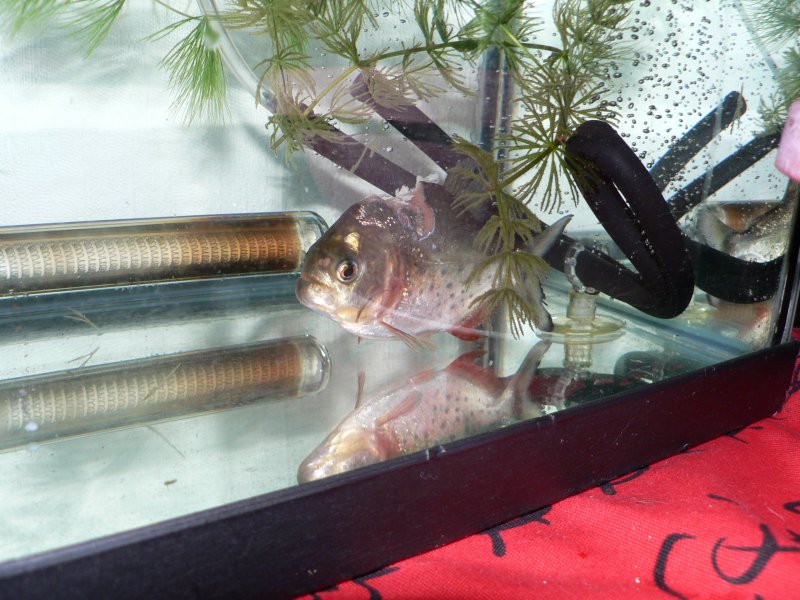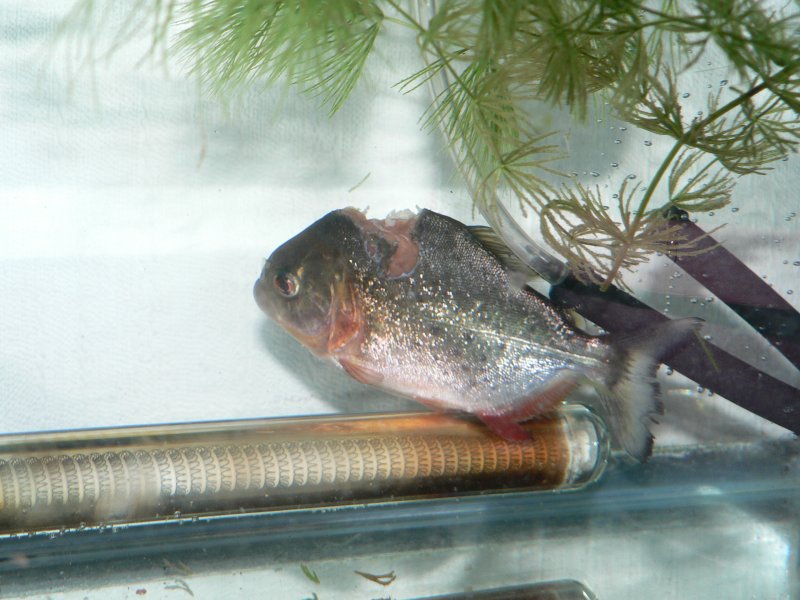 After one week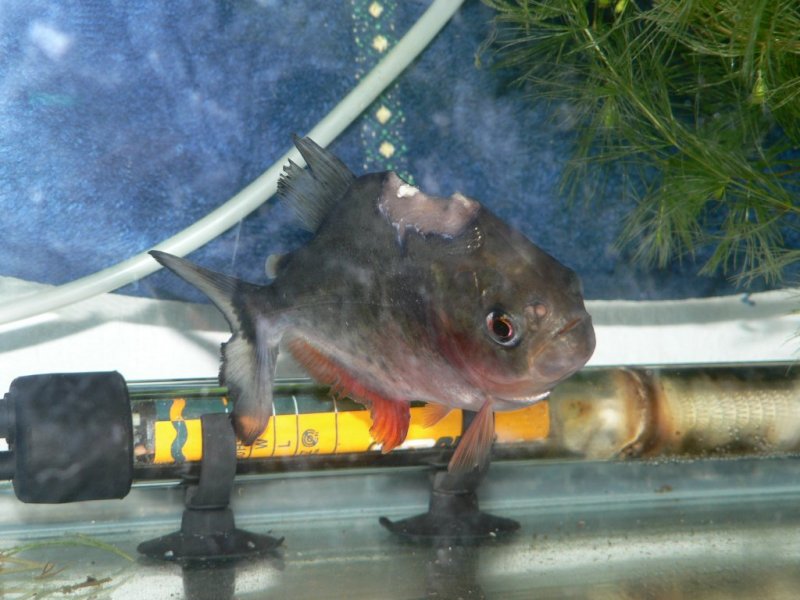 After 10 days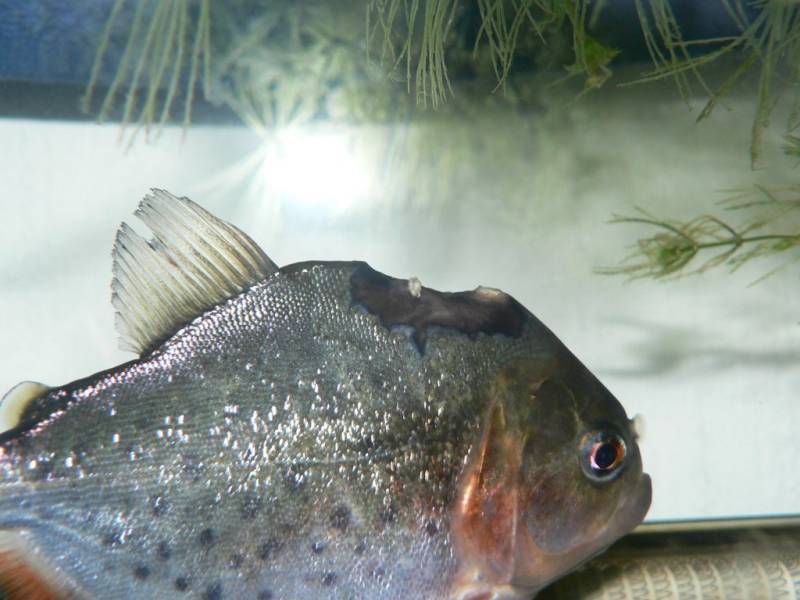 After 2 weeks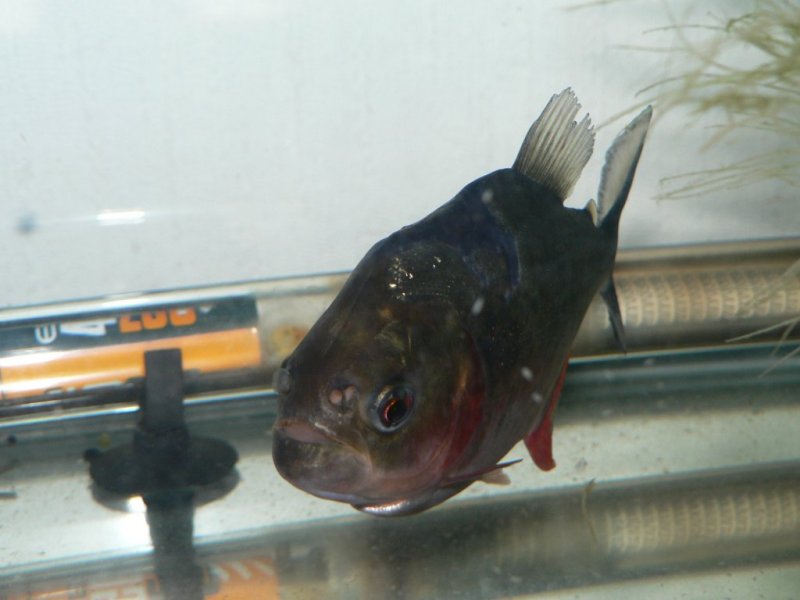 After 18 days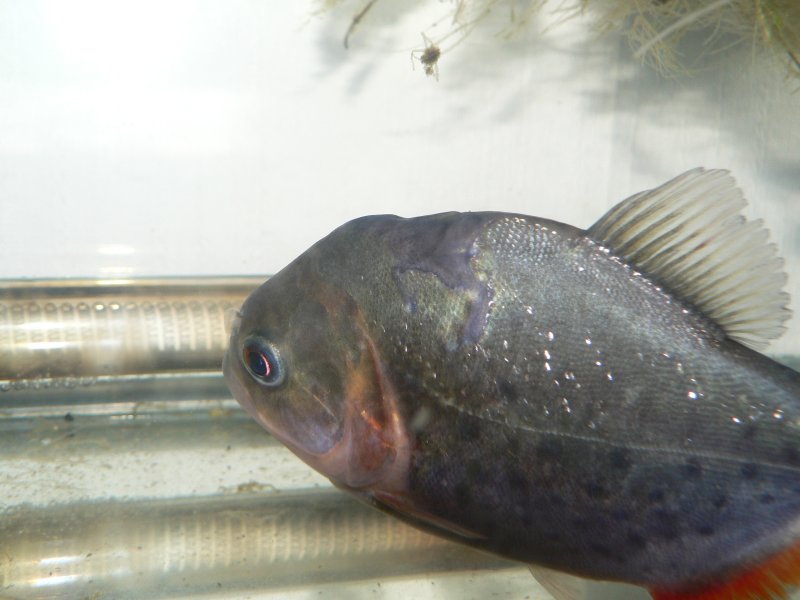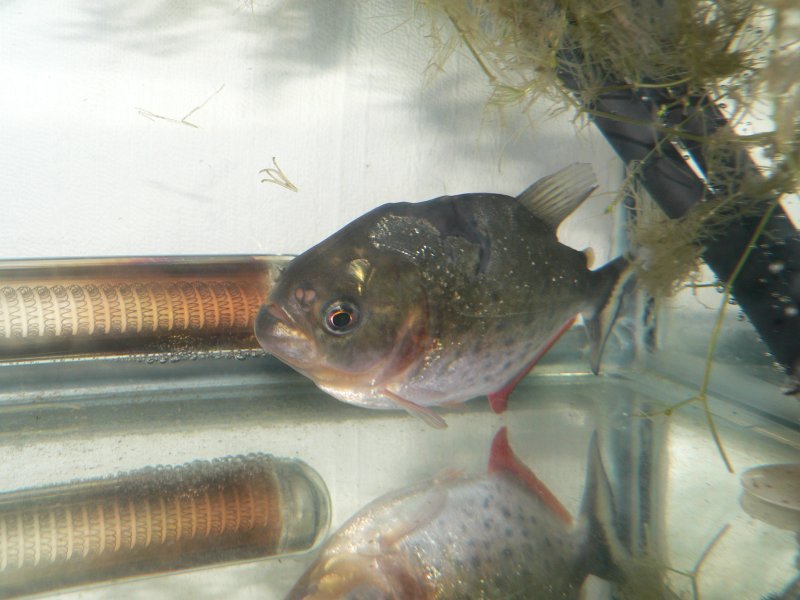 After 32 days .. The animal is out of danger.
This animal as well as photos belonging to a member of piranha-en
The photos were posted with his permission.
Last edited by NARKOTIK on Sat May 07 2011, 11:43; edited 1 time in total